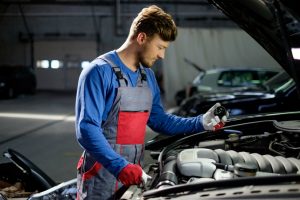 It is very common for drivers in New Jersey, as well as anywhere else in the country, to take their vehicle into a different garage and use a different mechanic for every visit.
While professional mechanics can and do work on all types of vehicles, working with the same mechanic and the same company for vehicle maintenance work in New Jersey has several important advantages. By understanding how routine maintenance impacts over vehicle performance, building this relationship with a trusted company should become a priority for any vehicle owner.
The Trust Factor
Most car owners and drivers have at least one story about an unscrupulous mechanic or garage. By working with the same service, it is easier to trust the information provided by the professionals. This also makes it easier for the car owner to ask questions, which can often be important in early detection of potential problems.
Know the Vehicle
Most vehicles, particularly older vehicles, have unique quirks and issues. When the same service is used, information on the vehicle is available, allowing the mechanic completing the service calls or repairs, to have a record of any past issues with the car.
Mobile Services
Throughout NJ, a very popular option for bringing mechanics to your vehicle rather than spending your time driving to them is the mobile service. These companies send out technicians to complete oil changes, tire rotations, and transmission services among a range of other services.
Having the mobile service come to you allows easy use of the same company for all maintenance type of work. Not only is this easy, but it also helps prevent the natural tendency to put off a call to a strange auto mechanic at an unknown garage.