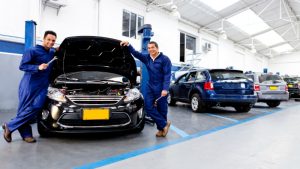 Even the smallest fender-bender can be a startling, if not somewhat traumatic experience for those involved. When it comes to repairing the damage done to your vehicle after a crash, you can rely on a quality local auto body shop in the greater Denver area to do the work successfully. At BJ's Auto Body and Collision Repair, we repair a variety of vehicle damage scenarios, including those caused by roadway collisions and hail.
Minor Repairs
Although we would like the smallest accidents to result in zero damage to our vehicle, often this is not the case. Even very low speed bumps and collisions can produce dents that are quite visible to the naked eye. If your vehicle has impacted another vehicle or an object and damage has been the result, it is best to contact a reliable local auto body shop to have the issue(s) fixed. Scratches, dents and other vehicular body issues can be dealt with fairly easily by a professional. As well, you may want to have the frame of the car checked, just to ensure nothing else about the vehicle hidden from obvious view has been damaged.
Major Repairs
Sometimes when the collision is very significant, the damage may require the use of specialized equipment to perform the repairs. This can involve straightening out the vehicle's frame so that the car meets all safety standards and requirements. Experienced local auto body shop, BJ's Auto Body and Collision Repair, can handle these major repairs.
You should expect to receive comprehensive auto body repair services under one roof. A reliable and experienced shop in the greater Denver area will have the personnel and equipment to get the job done for you in a timely fashion.
Ask for References
One way to vet your prospective body ship is to ask them for references of past customers. You may determine from these customers the type and level of customer service you will receive as well as the quality of the work you can expect.
If you need auto body repair work done after an accident, whether minor or major, the professionals at BJ's can help.