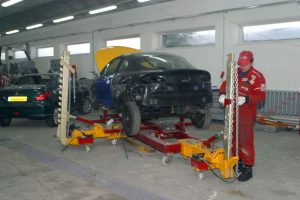 There are several reasons to consider having your car, truck, or SUV repainted. You might want to bring back the look it had when you first bought it, you may want to freshen up areas that are fading, or you might be looking to cover up damage from an accident. No matter what your reasoning is, you should choose to visit a professional to have the best paint job possible done. We'll share a few of the reasons that a professional should handle your car paint in Phoenix, AZ.
Level of Expertise
If you've ever taken on painting a wall or cabinet, you already know that it takes skill and experience to do a great job. Auto painting requires even more skill and it can take years to be capable of doing a good job with car paint in Phoenix, AZ. If body work is also required, this is another skill that someone at an auto body shop will have spent years cultivating. Everything from the preparation, including taping and priming, takes expertise and is best done by an expert.
Proper Equipment
You may not know exactly how much professional equipment is needed to do a good job painting a vehicle. There are special paint guns, but there are other things like a paint mixer, compressor, paint booth, sanders, and other tools that need to be utilized when painting a car. This isn't something that you're going to have available at home, which also means you can't expect to do the same quality job on your own.
Indoor Painting Environment
When you take your vehicle to a body shop, it is going to be painted in a paint booth located indoors. This is an environment without dust and other debris that is clean and safe. There is ventilation available that is regularly inspected for safety reasons. Once the paint job is completed, the vehicle will remain inside to dry where there is no debris that can cling to the paint job and cause problems.
At Dynasty Collision, we offer auto paint jobs as well as repairs for auto body problems. We offer free estimates and accept all major forms of insurance. If you are in the market for a new paint job, we'd love to be your auto painting destination. You can learn more about our services by visiting www.DynastyCollision.com