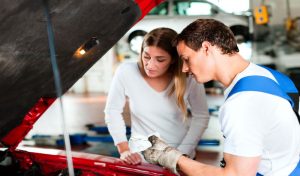 Few things feel as nerve-racking as driving down the road and realizing that your vehicle has a serious problem. If you can get your vehicle home and you can do research, here are a few things to consider when deciding about auto repair shops in Sun City, AZ, that you could potentially take your vehicle to.
Find out if the shop belongs to automotive associations. If they do, this is a good sign. It means they adhere to higher industry regulations. For example, they will have to go through a review process to ensure they meet customer service and industry standards before they are recommended by certain associations.
When looking at auto repair shops in Sun City, AZ, it is good to find out if they have technicians who are certified to work on the type of vehicle you own. Find out about the certifications their mechanics hold. Ask about the experience they have working on the particular make of your vehicle.
Before taking your vehicle to a specific mechanic, ask if the estimate will be free. If they charge for a diagnostic exam, ask how much the charge will be. You want to find out if it is a flat fee or an hourly rate. The more you know ahead of time, the better.
Ask if they will give you a written estimate after the diagnostic exam. The written estimate should include the items that need to be repaired, the parts that will be needed to repair, and charges associated with labor.