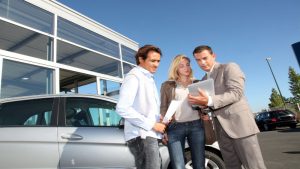 The Ford Edge has it all; it is the perfect mid size SUV with great styling, a comfortable ride and plenty of room for cargo. The Ford Edge in Wheeling is equipped as standard with a 245 HP turbo charged 2L four cylinder engine, a more powerful V6 is available. It is not only power, carrying capacity and comfort that set the Ford Edge in a class by itself; it is available with plenty of high tech options including a self-parking feature, adaptive cruise control and more.
A quick look at the Ford Edge:
The Ford engineers have hit a perfect chord; this mid-size two row crossover is larger than its two row competitors but smaller than three row SUVs such as the Ford Explorer. The Edge is wide enough to comfortably sit three adults in the second row but is doesn't have the bulk of one of the full size variants. A Ford Edge in Wheeling is the ideal vehicle if you are looking for something that is fuel-efficient, comfortable and very modern in its design and character.
Performance:
All Ford Edge's have a silky smooth six speed automatic coupled to one of three available engine choices. The standard engine, except for the Sport trim, is a powerful little 2L turbo that produces 245 HP. The standard is front wheel drive but all wheel drive is an option, and a good one for those living in the Chicagoland area. Fuel economy is good; 20 in the city and 30 MPG on the highway in the front wheel drive variant, a little less in the AWD variant.
Buyers of the SEL and Titanium trims can have their Edge with a 3.5L V6 with 280 HP and the Edge Sport has a 2.7L V6 putting out a lot of power; 315 HP and 350 lb-ft of torque and the fuel economy is almost the same as the 280 HP version.
A Ford Edge I Wheeling has many characteristics of family sedan, it has a composed ride and, compared to other crossovers, very little body lean when cornering.
If you are looking for a crossover that is the perfect size with a great ride and plenty of space for cargo you will enjoy the Ford Edge in Wheeling. You can test drive the Ford Edge when you visit Arlington Heights Ford.